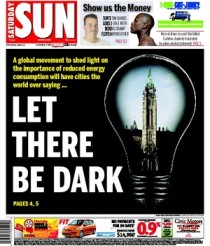 Earth Hour was 'celebrated' worldwide on Saturday in order to raise "awareness" of climate change and our wasteful consumption of energy. I was made aware of this event by the huge (approx) 50 ft full colour banner hanging from Ottawa city hall, the countless full colour flyers taped to lamp posts downtown, the wall to wall TV network coverage that has been burning up the microwaves, the buckets of black ink used to print clever 'lights out' themes on the front pages of newspapers produced from dead trees. Ironically, one Earth Hour promoter suggested sitting in the dark and burning candles instead of having the lights on. Alas, burning wax is a much less efficient method of producing light, and a process that produces more CO2, than using fluorescent (or even incandescent bulbs) that have been produced as a result of industrial progress, and market-based innovation. Indeed, the net result of industrialization was to create more efficient processes for achieving the same or better end results for less energy cost and less energy waste.
I live in downtown Ottawa. Besides a few lights off at Parliament Hill, there was no noticeable change in the electrical demand of our nation's capital. I wasn't up to too much of any consequence between 8 and 9pm last night so I decided to take a bit of an Earth Hour tour of the city from the comfort of a heated and fossil-fuel powered vehicle.
First stop was the Public Service Alliance of Canada building at 233 Gilmour st. This building is the Ottawa/federal hub for left-wing / labour / socialist causes as NDP associations and organizations close to the NDP have frequent use of board rooms and meeting spaces there. Here it is in its Earth Hour illuminated glory: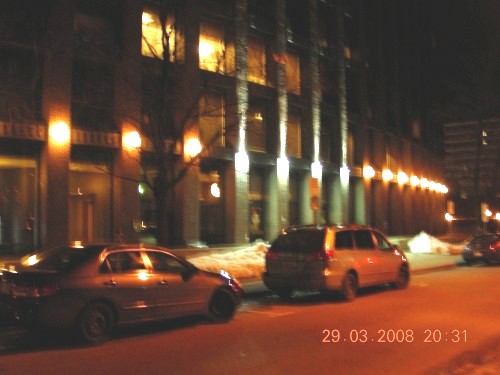 Not only were the lights on that illuminate the building on the ground floor and span half of the block flooding the grounds up until the sidewalk, a good number of offices were also lit up. These folks keep union hours (nobody's working at 8pm on Saturday night).
Next stop was the CBC on Queen st. It was a big night for CBC after all. Hockey Night in Canada is a Canadian institution and the CBC wasn't about to go dark for the occasion even though a lot of airtime was dedicated to raising 'awareness' for the event.
CBC Ottawa also did not go dark for Earth Hour. The building itself is within walking distance of where I work and live (it's also across from Hy's) so I have noted that CBC has frequently (if not every single night) kept the lights on during the night when nobody's working. Their empty cubicle farm located at street level is always lit up at any hour of the night when I walk by on the sidewalk. Sadly, Earth Hour was no exception.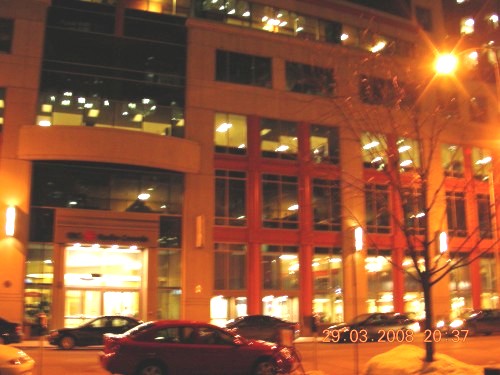 I also high-tailed it up to Rockcliffe for a quick drive past Stornoway and 24 Sussex. The Liberal leader's official residence on Acacia ave was dark save for a small outside light and 24 Sussex had the lights on at the RCMP guard houses near the gate, a room light, and a few other lights on (generally for security one assumes).
How does one measure the success of Earth Hour? Are there any more people today that are 'aware' of climate change that weren't yesterday? These sorts of "global" events have been held in the past. Live Aid and Live8 were meant to raise "awareness" of African poverty. Unfortunately, Africa is still poor and we're just as aware of this. Live Earth was a global concert to raise awareness of global warming, but the concert itself had a considerable carbon footprint as celebrities and rock stars flew in on their private jets and arrived by chauffeured limo to tell us to install low flow shower heads and use less toilet paper.
These sorts of events are designed to make people feel good and think that they're part of a global solution to a collective problem. However, it seems that no concrete action is achieved by raising awareness on issues of which people are already well aware.