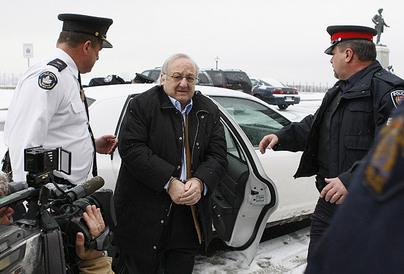 Today, I was able to make the House of Commons committee on Access to Information, Privacy and Ethics at Parliament. Here are my notes about what happened.
– Schreiber arrived in committee escorted by the RCMP. During the closing minutes of the committee he was flanked by four suited ear-pieced Mounties. Outside, on Parliament, police cruisers were on standby. Schreiber insisted that he be allowed to appear in committee in plain clothes instead of an orange prison, the police presence quickly reminded people about the serious allegations surrounding Schreiber.
– The last item during committee was a debate concerning whether or not Schreiber would be held in an Ottawa detention centre or in his private estate under house arrest in Ottawa. One Liberal committee member expressed that he wanted to ensure Mr. Schreiber got a good night sleep so that he's able to testify. Prior to the committee, Schreiber was escorted to Parliament Hill by police in handcuffs.
– Main sticking point of the committee is Schreiber's "inability" to testify because he hasn't had access to his notes and that the German-Canadian businessman wouldn't be able to recall specific details. One Conservative member complained that Schreiber was able to write an 80+ page affidavit and that Schreiber has had about 8 years to recall the details of his dealings with former Prime Minister Brian Mulroney.
– At first, Schreiber read from a hastily scribbled note that he struggled to read that he would not testify until given access to his notes which are located in Ottawa, Toronto and Switzerland. The last locale elicit laughter from those in attendance as it almost seemed like wishful thinking that Schreiber would be able to travel outside of Canadian (or German) jurisdiction to access his notes.
– Later, after being told to defer on answers from which he would need his notes, Schreiber eventually answered in the definitive to earlier questions on which he was unclear. This inconsistency seemed to wash over those in attendance as if they came to expect dodging from this star witness.
– I counted five CBC/SRC journalists in attendance and four of them were front-row-centre. The involvement of the state-funded broadcaster may come under more intense scrutiny when Dr. Johnston delivers his terms of reference. If Mulroney, who himself has called for a full inquiry, gets his way, the CBC – particularly the Fifth Estate – will be called before the inquiry to answer for what he has termed a vindicate character assassination campaign.
– Headlines, if any, will include the new information that Schreiber arranged $500,000 for Mulroney's services, however, he only paid $300,000 because he was unsatisfied with Mulroney's work.
– Every reporter that I've spoken to about this have a feeling that Harper's office is not directly tied to the Mulroney-Schreiber affair and of course, implying such a connection is the strategy of the Liberal party. One reporter remarked that the meeting was the biggest press circus that he's ever seen for a committee witness.
– With respect to the delaying tactics of Schreiber, both he and the Liberals can easily serve each other's agenda. Schreiber seeks to delay extradition to Germany to face bribery charges, while the Liberals don't mind stretching the process out over weeks and even months. The Liberal chair was quite accommodating to Schreiber's dilemma of not being prepared to testify. Schreiber will continue to appear before committee meting out small portions of his story until the committee is satisfied with his testimony. Conservatives are receptive to full testimony by Schreiber, but want the man to get on with it and wrap up as soon as possible. The Liberals aim to tar Mulroney and the Conservative Party with the same brush as they have inquired into past donations to the PC Party by Schreiber. Elizabeth Thompson reports this morning that the Liberals were also recipients collecting $10,000 in donations from the former arms dealer. The Conservatives made an effect to insulate their party from Schreiber as they point out that he has not donated to the Conservative Party of Canada.