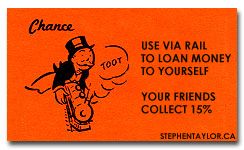 Marc Lefrancois, the former president of VIA Rail is set to testify before the Public Accounts Sponsorship Committee today. Let's review just one of the reasons why Mr. Lefrancois is a key witness to the misappropriation of funds by the Liberal government's Ministry of Public Works.
The Ministry of Public Works agreed to sponsor a television hockey series about Maurice "the Rocket" Richard produced by the company L'information essentielle. For some reason, the ministry told L'information essentielle to contact VIA Rail and Canada Post for the money to produce the series.
Now, initially VIA Rail denied L'information essentielle the money to produce the series, but Public Works essentially asked VIA for a loan and got this crown corporation to pick up the tab on the promise of reimbursement once Public Works received its funding from Parliament.
The bill came to $910,000 for VIA and the company immediately recorded it as a debt to be repaid by the Government of Canada. I don't know why a company would take on such a debt when they operated at a loss of $220 million that year — check VIA's 1999 annual report here).
Here's where things get interesting. VIA had to get repaid for loaning the Ministry of Public Works $910,000. So, Public Works hired Lafleur Communication (yes, that Quebec advertising firm) to do some work outlined in a contract that, according to the Auditor General, "was worded in very general terms and was not clear on what Lafleur was to deliver". Marc Lefrancois told the Auditor General that it was his understanding that VIA would only recover $750,000 from Public Works. So, it became particularly puzzling to the Auditor General to find that Lafleur Communication was to bill Public Works $750,000 plus $112,500 (15% commission). After Lafleur's 'work' was done, VIA invoiced that company for $750,000 and received the cheque on the same day.
So, Lafleur Communication (yes, that Quebec advertising firm) was used as the cheque passer between Public Works (the debtor) and VIA Rail (the debtee). For their work, Lafleur Communication received $112,000 "for delivering the cheque" as Sheila Fraser put it.
VIA was still owed $160,000, so they chalked it up to an "advertising expense" because they concluded that the Rocket Richard series provided them good visibility.
The question remains: Why would VIA Rail, operating at a loss, be used as a conduit through which the Ministry of Public Works could borrow money to pay for a television series on Rocket Richard?
Also, who's idea was it to create a debt in one sector of the government (the crown corp) only to be later repaid by the debtor (the Ministry)?
I don't question the merits of making a television series about Rocket Richard, I question who made it possible for Lafleur Communication to make $112,500 for passing a cheque between the hands of the federal government.