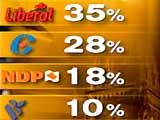 Paul Martin woke up to a headache this morning when he learned that his Liberal party had sunk back to its previous low of 35% in the polls. The "mad as hell" campaign didn't seem to work as the Prime Minister is only now truly learning of the anger and uncertainty that Canadians have in the Liberal government. These results also follow the recent Liberal advertising campaign showing an 'adlib' Paul Martin expressing that his mandate will be to get the bottom of his own party's corruption.
A spring election call would be an absurd strategy for Mr. Martin at this point. Our unreformed political system allows Paul Martin to call an election at his whim, whenever the polls are good. I don't know how they can get better for the Liberals.
The Conservative Party of Canada is steadily rising as they sit at 28%. The "Jack Attack" seems to be having some effect as the NDP is gaining in British Columbia as the NDP sit at a nationwide 18%. The Bloc Quebecois is holding at 10%.
To summarize:
Liberals: 35% (-3%)
Conservatives: 28% (+1%)
NDP: 18% (+3%)
Block: 10% (+/-0)
Green: 5% (+/-0)
The poll also found that only 17% of Canadians have a favourable impression of the Liberal Party. Another interesting measure showed that Paul Martin has a 41% favourable impression compared to a 40% unfavorable impression (19% undecided). Stephen Harper, on the other hand, has a 32%/23% favourable/unfavourable split (44% undecided). These figures should be encouraging to Mr. Harper as an election campaign will do well to (re)introduce himself to all Canadians as the new leader of the new Conservative Party of Canada.
The Conservative Party of Canada should be encouraged by these results as Canadians are seeking to replace the governing Liberal Party. However, the Conservatives should realize that an incredible opportunity for growth exists in Quebec. While separatist sentiments are now low in that province, the Bloc now leads the Liberals in a 45%-30% split. The Conservatives are making gains in Quebec albeit slight (11%). Quebec is moving their support to the Bloc as no other option really exists. For a significant part, Quebec is using the Bloc as a placeholder to vote against the Liberals. Indeed, Quebec voters do not expect the Bloc to form the next government; however, they do know who don't want to govern. Thus, the Conservative party should invest many efforts in Quebec because that province is in need of a viable option. The Conservatives probably won't make serious gains in Quebec this time around, but Quebec should be a serious focus of the Conservative Party in the future.