Yesterday, I met Stephen Harper in my riding of Kingston and the Islands. Mr. Harper was recruiting support for his leadership campaign and he addressed a room full of about 80 people. His speech was interesting and straightforward, underscoring his capability and accomplishments as Leader of the Opposition. In his speech, he informed us that Canadians have told him that the leadership race should not be a competition, but a choice. Indeed, I have always believed that the leadership candidates should focus on attacking the Liberals instead of each other. In my opinion, the victor should be the one who most effectively does this. However, I am confused as to why Stephen Harper would endorse Lois Brown, a nomination contestant in Belinda Stronach's riding.
Memorable moments: At one point during the evening, a member of the audience asked Mr. Harper to differentiate himself from the other candidates. Stephen Harper replied, in jest, that he is "male and tall". Another memorable moment came when John Reynolds promised that if I get my nomination, they'd get me elected and on my way to Ottawa because the Liberal Party is falling apart across the country.
Speaking of which, the Harper event was the official kick-off of my campaign. I worked the room talking to members about the leadership race and their concerns. At the end of the evening, I was interviewed by a reporter from the Globe and Mail.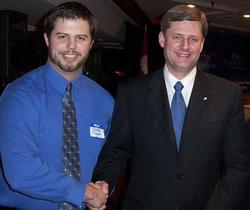 With Stephen Harper – Click to enlarge