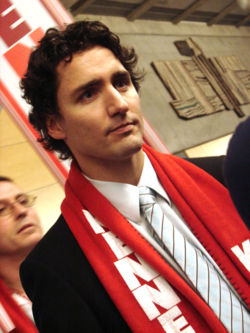 I overheard at the convention last weekend that Justin Trudeau is considering a run in the riding of Outremont.
I didn't put much stock into the rumour, but this makes it more likely to be true (Romeo St. Martin reports that Jean Lapierre may not run again in Outremont). Further, could he sit as an MP under a Dion government given Dion's hardline with soft Quebec nationalists?
Also, perhaps Trudeau believed that Kennedy (and then Dion) were weak leaders to support so that the eldest son of P.E. Trudeau could run for Liberal leadership in 2008.
Trudeau would be a (future leadership) candidate that would run heavily on personality and the name "Trudeau". Here's Blogging Tories Television's interview with him.
I'm certain that it's not a question of if but when and when may come sooner than we think if Lapierre's vacating of Outremont (again, perhaps because of Dion) is true.
A Justin Trudeau run in the riding of Outremont? You heard it here first.