As Halton MP Garth Turner stands in the House of Commons and acts offended by the so-called "In and Out" scandal with which the Liberals are trying to tar the Conservatives, he may want to check his own behaviour as his own financing may be in question.
On Garth's website, where you can donate, the following information appears: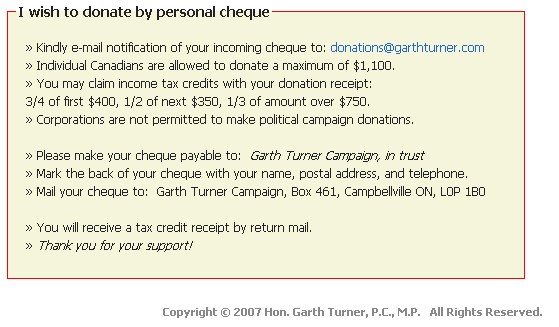 There are two questionable items in this information, particularly:
Cheques are to be made out to "Garth Turner campaign, in trust
Garth is promising tax receipts for donations made in this way
From Elections Canada, we learn that:
…as of June 12, 2007, as a result of changes made by s. 44(2) of the Federal Accountability Act to s. 404.2 of the Canada Elections Act, transfers of trust funds to candidates from registered parties and registered associations will be prohibited.
It seems that when an election is called, the federal accountability act prohibits the transfer of money from an electoral district association's or party's trust fund to a candidate. If this is so, who holds this money in trust? Is it "Garth Turner campaign" (whatever that entity is) or "Garth Turner"? If the account is to be used to elect Garth Turner, it would be useless for the EDA to hold it because of the new changes governed by the FAA. But yet, outside of an election, all funds must be donated to the EDA.
furthermore (from Elections Canada),
A contribution made from a trust fund is treated as a contribution from the trustee.

When a registered party, registered association, candidate, leadership contestant or nomination contestant receives a contribution paid out of funds held in trust, the trustee is reported as the contributor and the contribution counts towards his or her contribution limit.

Therefore, only a trustee who is an individual may make a contribution from a trust fund.
So, Garth is encouraging people to write cheques to "Garth Turner campaign, in trust". What does this mean? As is the general understanding, and confirmed by Elections Canada, funds held in trust become the property of the trustee. Contributions from trust funds are treated as contributions from the trustee. So, if a candidate were to able to transfer money out of a trust fund to fund their campaign, the maximum they could withdraw would be the maximum contribution amount allowable by an individual (ie. the trustee) per year, which is $1,100. If Garth collects $50,000 into a trust fund from donors, it becomes the property of that trust's trustee and subsequently, that trustee can only give $1,100. But, can money even be transferred out of a trust (with many contributors) for the purpose of an election campaign?
Trusts are dubious because of the exchanging of money through an intermediary (the trust/trustee). For example, if I wanted to give a political party $100, I couldn't give it to my friend to donate that money for me. My friend would have to do that in his name because he is the one handing over the money. Again, the nature of trusts is that the money held in trust becomes the property of the trustee and therefore contributing from that trust becomes a donation from the trustee and not the variety of individuals who gave money to put into that trust.
But, as we read on, this becomes clearer. Elections Canada states that indirect contributions are prohibited,
An individual may not collect funds from others in a trust for the purpose of making contributions to registered parties, their associations, candidates, leadership contestants or nomination contestants. (s. 405.3 Canada Elections Act)

This is because individuals cannot make contributions from funds given to them by others for the purpose of making contributions. This rule cannot be avoided by the individual collecting funds in a trust from which to make contributions.
The Liberals have been going on and on about money transfers from parties to candidates and from candidates to parties. Money transfers of this sort happen all of the time. However, according to section 404.2(2.2) of the Elections Act, this may not occur with respect to trusts.
A transfer of funds, other than trust funds, is permitted and is not a contribution for the purposes of this Act if it is

(a) from a registered party to a candidate endorsed by the party; or

(b) from a registered association to a candidate endorsed by the party with which the association is affiliated.
and according to Elections Canada,
A registered party, registered association, candidate, leadership contestant or nomination contestant may not avoid Canada Elections Act controls by collecting contributions directly in a trust fund.

Any such contributions remain contributions. They must be accepted by the relevant agent, put into the campaign account (*** ie. during a campaign, for a candidate as recognized by a returning officer during a writ period — Stephen ***) (if received by a candidate, leadership or nomination contestant) and reported as contributions.
Outside of a campaign, donations for the purpose of eventually electing somebody must be made to the Electoral District Association.
Why is Garth collecting money from his supporters into a trust?
Who owns (and therefore controls) the money in that trust since an EDA cannot transfer money from a trust to a candidate during a campaign?
How would a candidate expect to get more than $1,100 a year out of such a trust?
If a trust is made up of pooled money from a number of people, how can money be transferred to a campaign since indirect contributions are prohibited?
If during a writ period, only a campaign can issue tax receipts and if outside of a campaign, only an EDA can issue tax receipts, how can "Garth Turner campaign" hope to give tax receipts to donors as his website claims?
How much money has Garth Turner collected in trust?
UPDATE 10/29, 11am: Garth has changed his website. It now asks cheques to be made out to "Halton Liberal Association – Garth Turner Campaign".
Will Garth have to return all of the cheques made out to the trust fund?
How will any donor to the trust receive a tax receipt?
What if he has already cashed the cheques and the money has already accrued interest?
Why was a trust fund set up in the first place?