Yesterday, Stephane Dion made an unfortunate declaration regarding Canada's foreign policy and amends his position on Canada's military role in central Asia.
QUEBEC – Any attempt to counter terrorists in war-torn Afghanistan will not succeed without an intervention in neighbouring Pakistan, Liberal Leader Stephane Dion said Wednesday.

Dion hinted NATO could take action in Pakistan, which has a porous border with Afghanistan, if the Pakistani government doesn't move to track terrorists.

"We are going to have to discuss that very actively if they (the Pakistanis) are not able to deal with it on their own. We could consider that option with the NATO forces in order to help Pakistan help us pacify Afghanistan," said Dion in Quebec City, commenting after his two-day trip to Afghanistan last weekend. "As long as we don't solve the problem in Pakistan, I don't see how we can solve it in Afghanistan."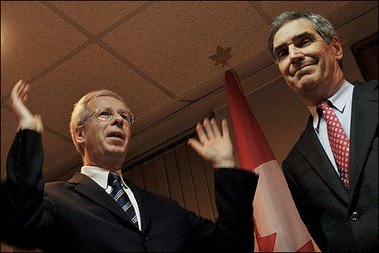 The suggestion that NATO could put boots on the ground in a country whose administration is already unstable due to tensions between civil society and fundamentalist Islamic elements within its own military and intelligence service – not to mention rising tension from the assassination of former Prime Minister Benazir Bhutto – is outright irresponsible of the Liberal leader. While President Musharraf is a reluctant ally, or at best one who must walk a fine line to maintain a delicate order, the very suggestion that Canada is ready to introduce a destabilizing element into the mix is enough to tip the balance there in an unpredictable way. The nuclear nation with a thick streak of radicalism that permeates its power structure and that has elements sympathetic to the Taliban and al Qaeda, is not the foreign policy sandbox for a Canadian opposition leader who is constantly refining (or rather redefining) his position on international security.
Could Pakistan be doing more to help the UN mandated NATO mission in Afghanistan? In a hopeful and unrealistic world where dreams come true, this could happen. Then again, France, Germany and Italy could be doing more to support our operations in that country wedged between Pakistan and Iran. However, the political systems of our European allies are not on the verge on catastrophic collapse. In the past, Mr. Dion has been critical of Canada doing all of the heavy lifting in Afghanistan. However, if NATO were to expand the theatre of operations to Pakistan, wouldn't this further test our soldiers by spreading NATO assets even thinner?
Frankly, while Dion's position is under-developed, it is surprisingly bellicose. However, it comes as no surprise that the Liberal leader has changed his position again this time after just recently visiting the nation on which he has so inconsistently opined.
After all, as a member of Chretien's cabinet, Dion voted to authorize the use of Canadian force in that country. Dion has expressed unambiguous support for the mission in the past:
"It's a very important mission and we want to be there" — Stephane Dion, March 2006

"We will succeed in Afghanistan if we show a lot of determination … We need to be resolute and to succeed." — Stephane Dion, March 2006

"We need to be there. Canada is a good citizen of the world. We are very courageous. We have been in Yugoslavia. We are ready to be in tough situations." — Stephane Dion, 2006

"There is no way that Canada will be an occupying force. I'm supporting the mission because I'm still convinced that most of the people of Afghanistan want our protection." — Stephane Dion, October 10, 2006
Dion however voted against extending the mission in May 2006 and continues to oppose the current mission believing Canada should do less fighting. Dion has explained that our troops must withdrawal "with honour". Further, it has recently been Dion's position that "The combat mission in Kandahar must end in February 2009."
As you can see here, Dion's many positions on the Afghan mission have been dizzying.
Unfortunately for Mr. Dion, there is no room for on-the-job training when it comes to foreign policy positions that a Prime Minister must take.
The only federal leaders who have been consistent in their positions have been Stephen Harper and Jack Layton. With a mission started by Chretien's cabinet, moved to Kandahar by Martin's cabinet, and which is now receiving on-again-off-again support from a hapless Liberal leader who now suggests escalation and expansion into Pakistan, Canada would be rudderless internationally under Prime Minister Stephane Dion.
Will Stephane Dion one day be in a position to make a critical decisions regarding Canada's deployment of its military?