A few marathon coding and HTML sessions later and I think that we're able to declare that Blogging Tories has received enough tweaking to declare a full new version of the site.
Blog post thumbnail pictures, AJAX navigation (tabbed navigation without refreshing the page), AJAX-based search, and the fundraising tool are among the new features.
The search feature is particularly exciting. Now you can submit a single query and display results from within the Blogging Tories network, from the whole web, from blogs and now from the Hansard record.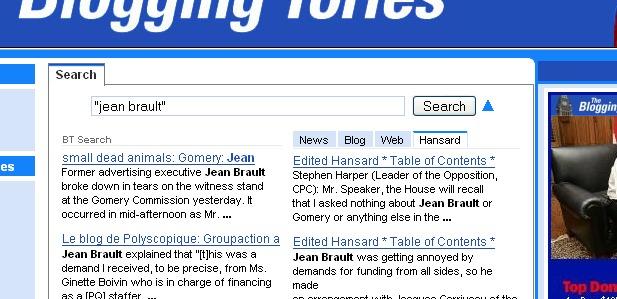 A sample search
To shrink the search bar back up top, just click the blue triangle (that points up). News-based and Blog-based search results on the right can be re-sorted chronologically.
As for the new navigation, you can browse through Blogging Tories mini-sites such as BT-TV, Brookstreet and even the BT-SPY without refreshing the page. You can just click through the tabs. Go ahead and give it a try. (Forums does load a separate page…)


BT AJAX-based navigation


BT-SPY loaded
and again, because it is so very cool, the Blogging Tories Fundraising Tool which is currently raising money for the conservative candidate in London North Centre. At the time of this writing, this blog (as a participant in BTFT program has raised $212.00, and Blogging Tories has raised $393.00. You can put the BTFT on your own blog by clicking here, or if you're the donating type, please go ahead!
Many thanks to Craig for his help in implementing the new features.
There are plenty of new features coming to Blogging Tories in the future. Stay tuned!