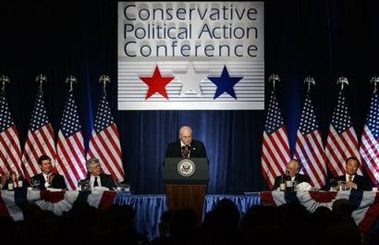 On Friday at CPAC, US Vice President Dick Cheney gave a typical stump speech which including the usual topics such as the war on terror and US security and he made reference to the State of the Union address, particularly on the US dependence on oil. I was unable to procure tickets at the last minute and friends say that it was interesting to hear but seemed a little rushed. We'd later find out that Cheney was to soon depart to Texas to for an annual quail hunt with friends. Unfortunately, Mr. Cheney hunting group suffered an accident when the VP, when targeting a quail, peppered his friend Harry Whittington with shotgun pellets.
Mr. Whittington's injuries aren't life threatening and is currently recovering in hospital.
The AP reports on the story and it appears that the media's practice of photoshopping news pictures that they don't quite like continues to be policy.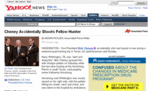 AP screenshot (Click to enlarge)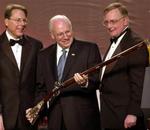 Enlarged AP 'photo' (Click to enlarge)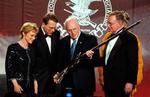 Photo with NRA logo (Click to enlarge)
It's possible that it's a funny angle thing, but line up the pictures yourself and look at the minor features.