I'd like to believe that Ralph Goodale is a honest politician and that he has served 32 years in public life with integrity, I really would. However, let's look at Goodale's previous connections to scandal in Ottawa now that he is starring in the latest.
First, a timeline of Goodale's career:
1974-1979 – Backbench Liberal MP
1981 – Leader of Saskatchewan Liberal Party
1986 – only Saskatchewan Liberal to be elected to provincial legislature
1988 – ran in federal election (lost). Executive assistant was Jason Kenney
1988-1993 Private sector: Pioneer Life Assurance Company, Pioneer Lifeco Inc., Sovereign Life Insurance Co.
1993 – elected as MP, Chretien cabinet minister of agriculture and agri-food
1997 – Minister of Natural Resources
2002 – Minister of Public Works and Government Services
2003 – Paul Martin becomes PM and Goodale becomes Minister of Finance
Auditor General Sheila Fraser uncovered the Sponsorship Scandal and released a scathing report of Liberal corruption. Justice John Gomery was given a mandate to look into the report and investigate political direction and what went wrong. However, he did not have the mandate to look at chapter 5 of Fraser's report which details many of the same type of "sole-sourced", non-competitive contracts that occurred between the government and Quebec ad firms. However, chapter five deals with the same type of suspect contracts between the government and Martin-connected Earnscliffe.
In a March 27th, 1995 letter to David Dingwall (then Minister of Public Works and Government Services), Ralph Goodale (then Minister of Agriculture) asked for a special favour:
In order to respond to the issue in time our department will need to sole source a contract to conduct the necessary survey and analysis work amongst both the general prairie public and the farm population. I wish to contract with The Earnscliffe Strategy Group to conduct this survey which will cost under $50,000. The company's knowledge of the policy file gained from previous research permits the rapid turnaround on issues such as methodology and issues to be explored during the survey. Also, the primary consultant to be involved is from Saskatchewan and has an excellent background in prairie agriculture.
A sole source contract to Earnscliffe? The primary consultant is from Saskatchewan? The primary consultant was likely David Herle who it turns out, was Ralph Goodale's driver and a close aide when Goodale was leader of the Saskatchewan Liberal Party.
David Dingwall responded (July 25th, 1995), shutting down Goodale's hope of setting up a sole source contract for a friend.
Agriculture and Agri-food Canada officials have demonstrated a pattern of non-compliance and avoidance during the year since the Treasury Board approval of new policies concerning this type of project (Attachment A). Submissions have been received often after RFPs have been issued or competitions are complete. Contracting has been undertaken by Agriculture Canada itself instead of by PWGSC as required under the Contracting Policy. Some competitions have used a limited list instead of the open system required for contracts over $30,000.
In addition, three projects have been funded through "contributions" I am concerned this method of funding could become a means to avoid the normal procedures for public opinion research.
My Department has made efforts to inform Agriculture and Agri-food Canada officials of the policies. It would be helpful if you could reinforce these efforts along with the concern about contribution arrangements for public opinion research.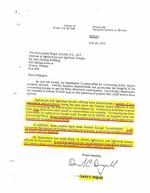 In a July 28th, 1995 memo from Chuck Guite, the Director General of Advertising and Public Opinion (Research Sector) to Warren Kinsella (then the executive assistant to the office of the Minister of PWGC), Guite complains about a contract issued to Earnscliffe:
POR (Public Opinion Research) indicated to the client that the "scope of work" was vague and written in a way that favoured the incumbant. Also attached is the results of the OBS process and as you can see, 17 firms requested the tender documents but only one bid was submitted which was by the Earnscliffe Strategy Group. Unofficial comments were received by the Public Opinion Research area of my organization, that the scope was unclear and bias to one firm, so why waste time and money on a bid that they had no chance of winning.
Sound familiar? This was what was happening in Quebec with no-competition contracts awarded to Liberal friendly firms for little to no work. Here we see the same but by Martin's people (Earnscliffe). Note that these contracts were issued by Finance. (Paul Martin was the Minister of Finance).
Note that while this doesn't specifically address Goodale's sole source contract request, it was this type of non-competitive awarding of contracts to Earnscliffe that Guite discusses here. Perhaps Goodale was lucky that his request was rejected by David Dingwall.
So, we have evidence of suspicious contracting practices by the department of finance and by Earncliffe (David Herle). Remember that Herle is a close friend of both Martin and Goodale.
Conservative MP James Moore questioned Goodale about this in the House of Commons:
Mr. Speaker, long time Liberal Warren Kinsella sent a memo in 1995 to the public works minister setting out $615,000 in government contracts that were given to the Prime Minister's friends at Earnscliffe in violation of cabinet guidelines.
David Herle, who was the Prime Minister's campaign manager, worked at Earnscliffe and received this money after the Prime Minister as finance minister insisted that David Herle and Earnscliffe receive the contracts.
The Prime Minister has two choices. He can rise in his place and admit that he directed cash to his friends or rise and call Warren Kinsella a liar. Which is it?
Selon M. Kinsella, ce premier ministre a accordé des contrats à ses amis, en particulier ses amis à Earnscliffe, dans les années 1990, comme Scott Reid qui est aujourd'hui son directeur des communications, et David Herle, le chef de sa campagne au leadership.
(According to Mr. Kinsella, this Prime Minister granted contracts to his friends, particularly his friends at Earnscliffe, in the 90s, like Scott Reid who is today his director of communications, and David Herle, the head of his leadership campaign.)
Comment le premier ministre peut-il continuer de jouer ce jeu jeux avec la vérité concernant l'octroi des contrat? Comment?
(How can the Prime Minister continue to play this game with the truth concerning the granting of contracts?)
Kate, from SDA reminds us of an excerpt from the Globe and Mail where Ralph insisted that there wasn't any rigging of contracts:
"Why does the government not just admit . . . the Prime Minister abused the process to get contracts to his friends at Earnscliffe, to his campaign manager David Herle?" Conservative Leader Stephen Harper said. "Why does he not just admit that he got public money to his political associates?"
Deputy Prime Minister Anne McLellan and Finance Minister Ralph Goodale jumped to Mr. Martin's defence as opposition MPs chanted "where's Paul" — a reference to the Prime Minister's empty Commons seat. Aides said that Mr. Martin was meeting with foreign ambassadors and representatives after the government released its new policy paper on foreign affairs.
Mr. Goodale insisted that an independent audit by accounting firm Ernst and Young in 1997 and the Auditor-General's review in the 2003 had found no rigging of contracts.
Let's fast-forward to the current scandal of income trusts, a scandal that surrounds Ralph Goodale and his announcement on the non-taxation of these investments. One of the people at the meeting of the executive committee of the Investment Dealers Association of Canada (IDA) was Goodale confidant Donald Black, a director of Greystone Managed Investments Inc. that manages the Hartford Growth and Income Fund, a fund that has significant investments in income trusts. Angry in the Great White North has more:
Finance Minister Ralph Goodale had an hour-long meeting with senior representatives of Canada's investment community — at which the issue of income trusts was discussed — only hours before his decision on the issue was announced, CanWest News Service has learned.
An official in Mr. Goodale's office confirmed yesterday that the previously undisclosed meeting with the executive committee of the Investment Dealers Association of Canada (IDA) took place, but said those who attended left the morning meeting "no wiser" about the decision that was announced later that day after markets closed.
So, how close are Goodale and Black? Greystone Capital Management is based out of Regina, Saskatchewan. Black ran Pioneer Life Insurance and gave Goodale a senior position in the firm during his brief stint in the private sector. According to some sources, Goodale was appointed this senior position to allow the now Minister of Finance to continue working on his political ambitions.
How might have Goodale reciprocated? Well, the events aren't officially related, but Goodale appointed Black to be the head of Farm Credit Corporation (based out of Regina) in 1995.
As I've previously written, it is beneficial to be a Liberal in the province which seems devoid of Liberal representation. Virtually all federal judges appointed from Saskatchewan between 1993 and the present have been Liberal donors. The former law firms of these judges have been kind to the Grits as well. Indeed, in a province that elects the NDP provincially and Conservatives federally, it is beneficial to be connected to the Liberal party. Ralph Goodale represents the foundation for the gilded straw palace that is the Liberal Party in Saskatchewan.