Homecoming weekend was a success. I met up with some old friends, introduced new grad school friends to some Queen's traditions and met up with a few fellow bloggers.
It turned out that Alfie's was in fact closed and Clark Hall Pub was open (contrary to the homecoming weekend schedule posted in the Journal) so after the initial meet-up inside the JDUC, we decided to move the fun to the QP where beer and good times were had by all. Al McLeod of Gen X at 40 joined the fun for a short while before going out for a night on the town with his better half (hopefully he caught the latter half of the BoSox game). John Hamilton, Matt Fletcher and the elusive "Blackhole" from View From In Here and myself talked about everything from AMS politics to, well, federal politics to our blog war stories and l'affair Kinsella.
The party then spilled out onto Aberdeen where we joined about 3000 Queen's students, past and present, for the greatest Kingston block party of the year. I believe that the police presence didn't dampen the party too much; however, it was the first year that I saw an alumnus (a 40 year old alumnus) in handcuffs and under arrest. I'm sure that even he would agree that the party was a mad success and that we'll see everyone back on Aberdeen next year.
Cha Gheill!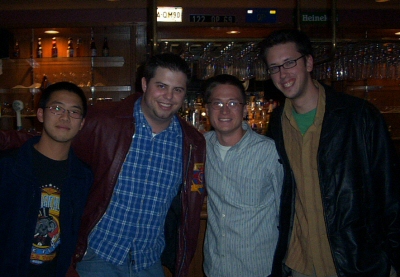 (L-R) "Blackhole", Stephen Taylor, Matt Fletcher, John Hamilton at the QP