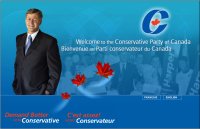 The new Conservative website went live today.
It has a clean and professional look and has a tabbed feature which allows rapid access to the most important information on the website: headlines, issues, "blog", and calendar.
Most of the website is blue and feature red accents, however, the solid Liberal-red button "refer a friend" seems to pop off the page.
I was glad to see that the party didn't stick with the old amateurish version of the site and instead replaced it with this very professional version.

On a side note, it seems as though the NDP has headed in the opposite direction: their website looked great before. What happened? It looks like an Irish clown vomited HTML and the head of Jack Layton.