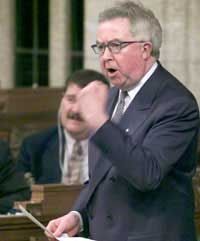 Today is likely the last day of the 37th Parliament and Paul Martin is expected to call an election during the Victoria Day weekend for a June 28th election. Some MPs will not be running for re-election and among them is the Right Honourable Joe Clark.
The former Tory Prime Minister is a man who has always stuck to his principles, and to him, he believed that governing properly should supersede that tricky game that parties play called partisanship.
Regardless of his status as an independent parliamentarian, Joe Clark always spoke his mind and has done so with an enviable degree of eloquence. The 2000 debates, I remember, allowed the electorate to see the stark contrast between Mr. Clark and former prime minister Jean Chrétien for this very quality. Yet, statesman he was, effective leader he was not. Clark, with his stubborn focus on his ideas (the right ideas in his opinion) never allowed him to effectively maintain a coalition of opinions. A party with a narrow and refined vision was the only party that Mr. Clark could comfortably lead and therefore he could never effectively and comfortably attain steady leadership on the governing side of the House of Commons.