ABC News is reporting that a "graduation ceremony" for suicide bombers was held along the border region of Afghanistan and Pakistan on June 9th. Some of the bombers are intended for striking within Canada.
Large teams of newly trained suicide bombers are being sent to the United States and Europe, according to evidence contained on a new videotape obtained by the Blotter on ABCNews.com.

Teams assigned to carry out attacks in the United States, Canada, Great Britain and Germany were introduced at an al Qaeda/Taliban training camp graduation ceremony held June 9.

A Pakistani journalist was invited to attend and take pictures as some 300 recruits, including boys as young as 12, were supposedly sent off on their suicide missions.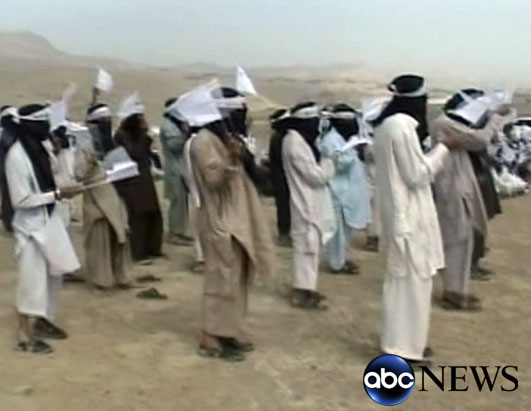 ABCNews.com photo caption: "These recruits stand ready to target Canada."
Of course, this may simply be a propaganda campaign by al Queda and the Taliban. It is not certain if the Taliban has the means to strike within Canada and individual suicide bombing has not been common in North America (I cannot think of one incident). Further, a suicide bomb strike within Canada would only strengthen the relatively shaky resolve that Canadians have in the Kandahar mission, an outcome that wouldn't seem to be consistent with Taliban objectives. Of course, this quote from a Taliban commander indicates that their objective may simply be revenge:
"These Americans, Canadians, British and Germans come here to Afghanistan from faraway places," Dadullah says on the tape. "Why shouldn't we go after them?"