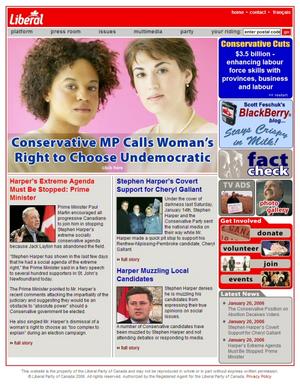 The Liberals are certainly desperate if their homepage is any indication. There is not one single positive message that the Liberals are offering voters as they make their decisions this weekend.
No vision. No hope. Just fear.
"extreme agenda", "covert", "muzzling", "abortion", "conservative cuts", "MP calls right to choose undemocratic"
A mandate is not earned from the Canadian people based upon a veto that is scared out of them.
The only positive message that I can find is that Scott Feschuck's blog stays crispy in milk.
I think that Paul Martin's recent fearmongering is disgusting and insults the intelligence of the undecided voter.
Consider CPC MP Rona Ambrose's response to Paul Martin's insult to women:
"I am truly troubled and disappointed in Paul Martin's fear mongering on women's rights – because women's rights is a very important issue to me. Violence against women is one of the reasons I became involved in politics. Paul Martin is doing a disservice to women by using a campaign of fear and lies to scare women on issues like abortion." – Rona Ambrose, CPC MP
(click the image to enlarge)