Take a look at the following faxed pages (click to enlarge).
The faxes are from accounting firm Deloitte & Touche to the Ministry of Finance (Ralph Goodale's office). The faxes are to Mike Burton, a former ministerial staffer of Finance Minister Ralph Goodale. However, it appears from these faxes that Burton is also an organizer within the Saskatchewan Liberal Association.
The faxes, intended for the Minister's office detail Liberal Party donations to the riding of Regina Qu'Appelle where one assumes Burton is organizing for the Liberal Party. The faxes also describe accounting of party funds in the ridings of Prince Albert and Regina-Lumsden-Lake Centre.
It's a big no-no for a ministerial budget to be used for partisan purposes and it's clear from these faxed pages that
The pages detail the business of the Saskatchewan Liberal Association.
The cover page indicates the intended destination, "Finance"
The fax number on the cover page (613) 995-XXXX indicates a House of Commons / Ministerial number.
There is not a number within the (613) 995- range that should be receiving faxes dealing with partisan business.
This fax was obtained indirectly by this conservative blogger via a campaigning Conservative friend who obtained it from a Conservative MP that received the fax by mistake (number blurred to protect the innocent). Apparently, the fax number was typed in erroneously (a dialing typo).
Furthermore, is it the same Mike Burton from Saskatchewan that provides us with yet another one of those 30 million reasons to not vote Liberal?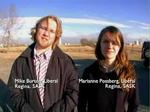 Click image to enlarge
UPDATE: Mike Burton has been quite involved in the Liberal family for some time. Burton ran for the Liberals in the Saskatchewan provincial election in 2003 in the riding of Swift Current.
UPDATE: Angry takes the ball and runs with it. He discovers that Goodale's ministerial staff has a particular focus on Saskatchewan issues for some reason.