When I was in Ottawa at the beginning of last month for the first part of the Gomery report, I had a chance to sit down for a chat with James Moore, the Conservative MP for Port Moody-Westwood-Port Coquitlam in his office on Parliament Hill.
James was the Conservative Party's transport critic in Stephen Harper's shadow cabinet until the dissolution of Parliament last Monday.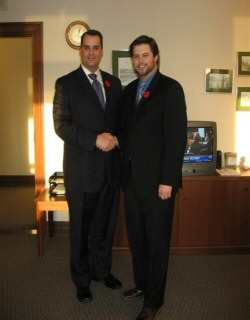 With James Moore – Click to enlarge
In this podcast, James and I speak about a variety of topics from blogging to methamphetamines to Martin Luther King Jr.
James is currently running for re-election in his BC riding and is keeping a daily campaign blog. British Columbians would certainly benefit from his re-election to the House of Commons. Best of luck James.