While hanging out with fellow Manning conservatives this weekend, Ezra Levant told me about a little party that he was having on Sunday night for the 'founders' of the magazine. "Oh, and by the way" he said, "Lord Black of Crossharbour is going to be there."
Well, no matter who you are (except perhaps Lord Black), that's an intriguing guest list already.
As it turned out, there were a few other intriguing people at the small and intimate party (about 25 people) which was located in a suite at the Sutton Place Hotel.
I met fellow Blogging Tories Steve "you don't look Angry" Janke and Bob Tarantino who both brought their charming better halves.
Journalists in attendance included the witty and lovely Rondi Adamson, fellow youngster Michael Taube, our over-worked host Ezra Levant and of course, National Post favourite Andrew Coyne.
Regular freedom fighter (or is that "fighter for freedom") Gerry Nicholls also made an appearance.
Even CPC party MP Jason Kenney was in attendance. I asked Jason if he wanted to do a podcast one day. "Pot-cast?!" he asked shocked, "You want me to do pot?" Of course, I thought this was funny, so I shot back "I'm game if you are". Hopefully Jason and I will spark up a conversation one day (to be available in downloadable syndicated MP3 format). I'll bring the salty snacks.
Some old friends were in attendance as well including Michael Moore plaintiff Kaz Nejatian, Toronto CPC candidate Michael "pull the goalie" Mostyn, and my grade school friend Peter Kroll. My new pal Tasha Kheiriddin was also in attendance charming fellow party guests and promoting her exciting new book.
I had a chance to meet the controversial Lord Black and found him to be surprisingly talkative and I noticed that he still had his trademark streetfighter style. We chatted about the newspaper business and the evolution of the medium. I told him that I represented a group of online "citizen journalists". He laughed and said that anything could be better than the paid ones.
Some say Lord Black is a hero of the Canadian right for how he provided a real opposition in the press to Liberal governments. However, minority shareholders of his companies have felt abused for years by his business practices. I found Lord Black to be a nice guy (from our 5 minute chat), however, I never invested in Hollinger.
Party guests drank Albertan Trad and Grasshopper, munched on veggies and dip and tried to look natural in front of Ezra's professional photographer (expect to see us on the "Society Page" of the Western Standard next month). Ezra is one of the hardest working people in Canadian conservatism and I'm glad that he has a lot of fun doing it.
Pictures appear in the extended entry (click the "Continue Reading 'Western Standard Party'" link below)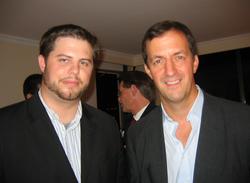 With Andrew Coyne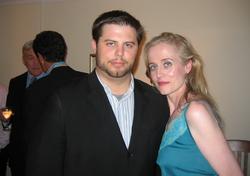 With Rondi Adamson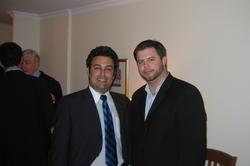 With Michael Taube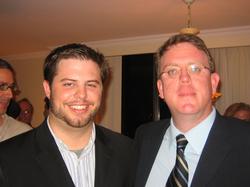 With Michel Kelly-Gagnon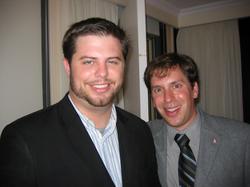 With Michael Mostyn