You can almost hear the rush of right-wing punditry rushing to cover this story posted on CTV.ca today. In fact, Ravishing Light and ALW have already weighed in.
In a poll conducted by Decima Research, the effect of the CBC lockout was gauged on a random sample of about 1000 people. Here are the numbers:
61% – no effect on their lives
27% – minor inconvenience
10% – A major inconvenience
Particularly fun are the reports admissions of the political implications surrounding the lockout.
"The poll is powerful ammunition for CBC critics who resent the broadcaster's yearly taxpayer contribution of more than $900 million."
The number is precisely $933 million. This is the money that comes in, every year to a network that only really serves 10% of a captive population. Here's a chart showing how much the CBC takes in from the government (ie. the taxpayer), year after year.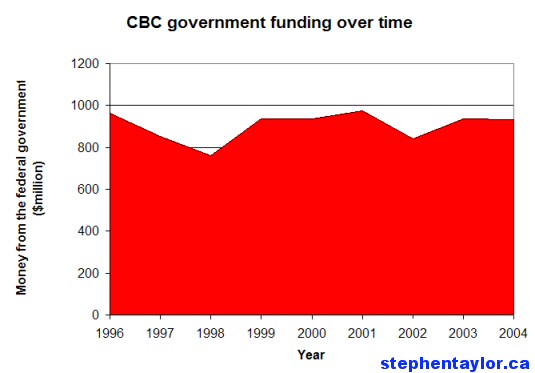 That's almost $1 Billion a year. Ask CTV/Global/CHUM how much they similarly receive from the government. Should this crown corporation be competing with the private sector?
Both CTV News and Global National News reported related audience boosts. (due to the lockout)
Another interesting and not at all surprising fact was uncovered by the poll:
Those who said they were most inconvenienced by the lockout tended to be Liberal and NDP voters or older people, the poll found. Most other respondents said they had not been affected.
From the other side of the political debate comes Ian Morrison of the association called "Friends of Canadian Broadcasting" with a threat.
"The impact will be much greater if the lockout extends into October when Hockey Night in Canada and other programs typically attract millions of viewers". — Ian Morrison
For the 10% of the Canadian population that have had their lives turned upside down, rest assured that if hockey doesn't end the lockout, the Corpse will be back on the air before the election.