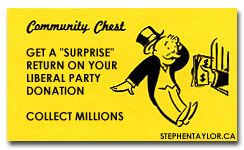 Adscam whistleblower and Public Works official Allan Cutler tabled many documents in his testimony to the Committee of Public Accounts on March 11th. Among those documents is a memo dated January 26th, 1996 where he questions a $909,000 amendment to a department of finance contract with Groupe Everest. In his memo, he writes "Groupe Everest will presumably obtain a commission on the sub-contract without having done any work."
Groupe Everest is one of the Liberal-friendly advertising companies that is at the centre of the Sponsorship Scandal. The firm donated $71,321 to the Liberal Party of Canada between 1997 and 2001. Groupe Everest was founded by Charles Boulay who also happened to have worked on Paul Martin's 1990 leadership bid. Boulay's name has also not been foreign to the House of Commons where members of our Conservative party criticized then-Public Works Minister Don Boudria for having a family stay-over at Boulay's lavish cottage. The minister was later demoted.
An exerpt from the Calgary Herald on March 12th with a section of the interview between the Committee of Public Accounts and Charles Guite:
When pressed again to answer why finance officials had issued at least four contracts without going through proper channels Guite replied: "I mean, it's no different than, OK . . . you go down Hwy. 401. There's always someone speeding. A lot of them don't get caught. All of a sudden you get caught, you get a speeding ticket. This is the same policy. We have a new policy that is working very well. Some people are not following that policy. Some of them are probably still getting away with it today. The ones that get caught on the radar trap, to use that analogy, we address the issue."
Interviewer: "Finance got caught in your radar trap?"
Guite: "They did."
It is rather unfortunate that the mess that these people have made will have to be cleaned up by the next government that is formed. The House of Commons has become a theatre for criminal investigation rather than a legislative body. Let's sweep out the gritty dirt, establish and enforce proper practices for government contracts and then start legislating as intended.
In other news, Alfonso Gagliano is set to testify to the committee on March 18th. It will be interesting to watch.