Good news for Canadian democracy.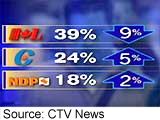 The numbers this weekend provide hope for our political process — when a party is involved in corrupt practices, giving taxpayer money to party-faithful, the Canadian electorate will react and send a powerful message to Ottawa that they are upset and that they will be heard. Democracy isn't dead. At a time when the Conservative Party of Canada is gaining momentum, this latest turn of events may indicate that Canada may indeed escape the Liberal Limbo in which it has been suspended for the past 11 years. A competitive political environment is alive in Canada for the first time, in a long time, and Canadians deserve nothing less.
The numbers this weekend are supportive of this fact with 1 out of 5 liberal supporters effectively turning their backs to the party. The Liberals are down 9% from 48% to 39%, the Conservative Party of Canada is up 5% from 21% to 26% and the NDP is up 2% from 16% to 18%. These numbers indicate that the Liberals would not likely form a majority government if an election was held today.
A valid alternative choice to the Liberals is what Canadians deserve and the Liberals are giving Canadians reason to shop around.