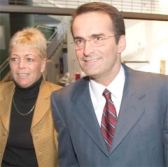 I can't believe the news today.
In a move sure to astound, Paul Martin recruited Bloc Québecois co-founder Jean Lapierre to run as a Liberal in Quebec in the next federal election.
Does this indicate that despite one's political inclinations or political past, as long as one is a Martinite, all is forgiven? It is good to see a seperatist become a fan of Canada again. It will also serve to take some Bloc votes from that party which makes it appear as though the Bloc is on its way out. Good strategy on behalf of Paul Martin, but what leaves me unsettled is that this man was the co-founder of the 'federal' party which helped the Parti Québecois bring this country to within less than one percentage point of a national crisis. Mending fences is always a difficult process and I guess that this is a perfect example of that difficulty.
If the Liberals can forgive such a former sovereigntist then perhaps Paul Martin and Alan Rock can give Brian Mulroney a call to share some laughs over a few pints. "Sorry 'bout our witch-hunt, Brian. We just didn't realize at the time that we'd come to love those things called NAFTA and GST."