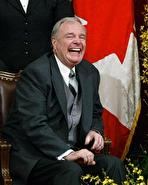 So, now that the throne speech has been delivered, let's take a closer look. The key item, it seems, in the speech was the "new deal" for cities. The NDP says that it doesn't go far enough and the Conservatives say that it treads on the constitutional balance between the federal/provincial/municipal governments. I'm also very skeptical of Paul Martin's "one time" two billion dollar into the health care system. Paul claims "it's broke", so he'll put a two billion dollar band-aid on it and hope it holds until he's ready to retire. Why is it broken Paul?
I keep getting a strange feeling every time that I hear the liberal spin about how this new Liberal government is going to be different from Jean Chrétien's government, and how spending focus and policy is somehow going to shift. By the will of the Liberal party membership (including the loyal Liberals in BC), we have a new Liberal Prime Minister and he's the "new deal" for Canadians. This couldn't be further from the truth.
Prime Minister Paul Martin was a key player in the Jean Chrétien government when he was Finance Minister Paul Martin. The allocation of government spending has been long determined and considered by Paul Martin long before he was Prime Minister. It's not as if Paul Martin has just recently seen the books for the first time and has had an epiphany. Rather, this speech from the throne is merely the pre-election platform of empty promises by the same old government. Indeed, this government has had years to consider a better deal with cities and has had years to find a solution for their failed management of healthcare. I believe that Peter MacKay said it best yesterday, after the speech, when he said that Paul Martin is like an arsonist returning to the fire and then claiming he is a firefighter. It seems as if government turnover in this country has been reduced to the Liberal party coronation of a new leader and calling him "the new deal".